July 7, 2016
Prevent Summer Slide by Mrs. Connie Orton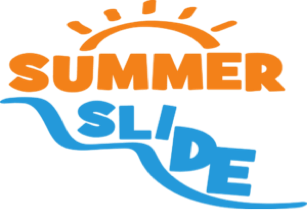 We all look forward to summer! It comes with a happy change of schedule and the hope of many great experiences just ahead! Often, as we begin the summer months, there are great intentions of keeping children academically strong; after all, they just enjoyed incredible progress over the past school year! However, without some discipline and direction, the months of summer quickly slip past, like the sand in an hourglass. If academic activities don't happen, soon children begin to slide! As the old saying goes, if you don't use it, you lose it!
Here are some staggering statistics to consider when thinking about the Summer Slide.
100% of Students experience summer learning loss if they don't engage in educational activities over the summer.
25% of academic learning is lost by children during summer vacation!
4-6 Weeks is the time it takes teachers to re-teach material that students have forgotten over the summer.
2.6 months is the average learning loss per student in math and 2 months is the average in spelling!
2/3 of the achievement gap between ninth graders can be explained by summer learning loss during elementary school years!
3 years out of the first 5 years of school is the cumulative impact of summer learning loss!
You can see why teachers and administration get a little anxious when considering a summer of non academic activity from their students! So, here are some fun activities to consider when trying to avoid the summer learning slide:
1. READ EVERY DAY— non-fiction, fiction, ebooks, poetry, newspapers, enroll in your summer library reading program. Read out loud to your children!
2. COOK WITH YOUR CHILDREN! This is one of the best ways to integrate math, reading and following directions skills. It takes patience, but it is worth it!!
3. ENROLL IN A QUALITY SUMMER CAMP. It will provide your child with opportunities to build and enrich their critical thinking skills.
4. PLAN A TRIP! Use Google Maps to help you and your child investigate journey distances and travel times.
5. SUMMER JOURNALING! Ask your children to write daily what they have done or learned!
6. LEARN LOCALLY! Don't forget about the local park, museum, zoo, aquarium and other interesting places. Have you ever floated in the Great Salt Lake? Have you gone to The Golden Spike National Historic Site? Have you gone fossil trilobite hunting near Delta! (We did this with our kids one summer—it was so much fun!) Or have you discovered the Spiral Jetty, an earthwork sculpture on the northeastern shore of the Great Salt Lake? There are so many interesting Utah things to do and discover!!
7. DOWNLOAD QUALITY MOBILE APPS! Modern day technology can help kids practice math and reading while having fun. But please, be aware of too much screen time. Help your child SET LIMITS and then stick to it! It takes discipline, direction, determination and yes, even courage to choose to be academically minded over the summer months.
There are only 40 days left before school starts up again! I encourage you to enjoy and make the most out of the remaining days of summer and help your child maintain a high academic outlook!
Connie Orton
Kindergarten Teacher
JHCS