August 17, 2016
Integrating Art by Mrs. Tatum Bunker – 4th grade teacher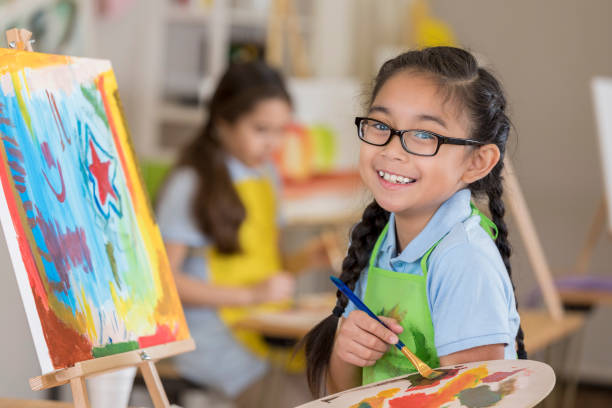 ​Have you ever wondered what makes John Hancock Charter School so great? While there is quite an extensive list of factors that contribute to our school's many accomplishments, today I want to focus on one aspect of success that often goes unnoticed and underappreciated – the use of art in the classroom.
In the field of education, teachers are confronted with several challenges, which can hinder their ability to effectively reach all learners. Integration of the arts is a critical classroom component for teachers to meet these challenges and support the needs of all students. But, what exactly does it mean to integrate the arts? Arts integration is the purposeful and masterful weaving of music, visual art, dance, poetry, movement, storytelling, and drama throughout a variety of academic subjects. This blog post touches on a few of the current challenges many educators face, along with several reasons why arts integration is critical for the success of our students.
Challenge #1- Active Students
Many seasoned teachers believe that today's students are far more active than ever before. For this reason, there is a strong rationale for educators to incorporate movement into their curriculum because students of all ages literally think with their bodies. Movement is an embodied approach for students to learn new concepts and can also be a vehicle that allows students to demonstrate their understanding of concepts previously learned. Often teachers rely too heavily on visual and auditory modes because those have been the primary ways of their own learning, yet kinesthetic approaches remain a powerful way of teaching. Students who have opportunities for kinesthetic learning during the school day increase functioning in areas such as confidence, positive social interactions, problem solving and creative thinking skills.
Challenge #2- Increased Depth and Rigor in the Standards
State standards require educators to teach with more depth than ever before. The introduction of more rigorous core standards has also placed higher demands on students' cognitive capacity. The key to helping students achieve success with today's standards is to integrate the arts. The arts move students far beyond basic skills and simply recalling knowledge toward an assimilation of learning in meaningful ways. The arts provide a variety of opportunities that promote students to use higher order thinking skills. Students who are learning through the arts increase in their ability to solve problems, evaluate knowledge, use their imaginations, exercise their curiosity, and make connections among ideas and across subjects.
Challenge #3- Every Teacher- a Literacy Teacher
Too often teachers are heard to say, "how can I fit it all in?" In addition to more rigorous standards, classroom instructional time is often lessened as more and more time is spent on high-stakes assessment. This requires teachers to do much more with less time and resources than before. By integrating the arts, teachers are able to use their precious time and resources to cover several standards in one lesson and to produce the greatest student success. The skills students learn through the arts often cross over into other academic areas including reading, writing, speaking, and listening. Research suggests a direct link between art experiences and literacy skills. The arts provide an avenue for meaning making, just as reading and writing do, yet the arts are less likely to confine some learners who may have deficits in the area of language arts. Instruction in reading, writing, speaking, and listening is increased through the special communication capacities that the arts provide.
Challenge #4- Student Centered Learning
The climate of traditional education in America tends to be one in which the child is a passive consumer of learning rather than an active producer. Teachers can rely too heavily on direct instruction, which sends the message to students that the adult has all the knowledge and the student's only purpose is to sit quietly and take it in. Learning through the arts cements children's understanding in ways that a lecture or direct instruction cannot do alone. The arts provide meaningful opportunities for children to develop skills needed in society. Instead of being something disseminated down to students, knowledge becomes something explored, created, and reflected upon which gives them full ownership of their learning and the motivation and positive attitude to want to learn more.
Challenge #5- Diverse Learners
Students enter schools as diverse and distinct learners. By including the arts as an instructional practice, teachers provide far greater opportunities to reach every student. This differentiated instructional approach strengthens the learning pathways and deepens the connections of every single participant. As teachers differentiate by including the arts, they provide a way of leveling the playing field so that lessons and content become challenging and engaging for all students regardless of ability or experience. The arts can reach the delayed learner, the gifted child, or the multi cultural student. Through the use of arts in the classroom, students learn that everyone has a voice.
In conclusion, art cannot be just an "extra" content area to be provided as time permits in the classroom. JHCS teachers take this philosophy very seriously. Arts integration in all academic areas is considered the essential component of superior instruction. Such instruction helps teachers to successfully meet the challenges presented in every classroom.